Hummingbird
Acoustic Guitar

---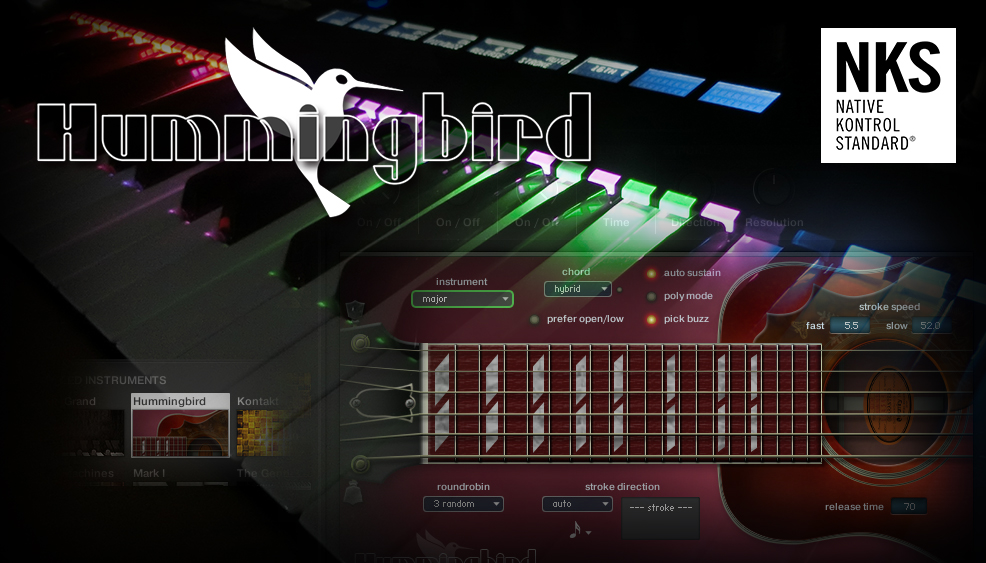 ---
Hummingbird Acoustic Guitar

(includes approx. 80GB*, 89,000 samples!)
Ultra Real-sounding Virtual Acoustic Guitar
- The true sound of Gibson® 1963 Hummingbird includes approx. 80GB*, 89,000 samples

Prominy Hummingbird enables you to compose and create powerful and natural acoustic
guitar tracks that imitate real acoustic guitar playing!
>>> video demos

- Incredible real-time playability – Hummingbird SPI (Super Performance
Instrument)
- Fretboard Monitor
- Intelligent Instrument Key Switch with chord recognition
- Real sampled chords
- Real emulated chords
- User Chord
more details....

Kontakt 5 Player included - No sampler required

Buy This Product >>


---
V-METAL

(includes approx. 19GB*, 26,000 samples!)
Ultra Real-sounding / Dark-Powered Virtual Electric Guitar
- The true METAL sound of ESP® Alexi Blacky with EMG®humbucker pickup

V-METAL enables you to compose and create very realistic Metal guitar tracks that imitate real guitar playing!
>>> video demos

- Incredible real-time playability: V-METAL Super Performance Multi
- Fretboard Monitor


- Cricket, Feedback, Double-tracking


more details....

Kontakt 5 Player included - No sampler required

Buy This Product >>


---
SR5 Rock Bass

(includes approx. 15GB*, 14,000 samples!)
Ultra Real-sounding Virtual Electric Bass Guitar
- The true sound of MUSICMAN® StingRay5®

"A lively-sounding and very playable virtual bass guitar"
"Well suited to rock, metal and progressive genres, also adaptable to many other styles"
"High-quality, detailed and lively sound"
- Sound on Sound Magazine

With SR5 Rock Bass, you can play ultra realistic bass guitar sound in real-time. You can access various playing techniques instantly without stopping your performance and create realistic bass guitar tracks very quickly and easily.
>>> video demos

- Incredible real-time playability: SR5 Super Performance Multi
- Fretboard Monitor
more details....

Kontakt Player 4 included - No sampler required

Buy This Product >>


---
SC Electric Guitar

(includes over 64GB, 123,000 samples!)
Ultra Real-sounding Virtual Electric Guitar - The true sound of Fender® Stratocaster®

"Produces amazingly realistic guitar parts."
"Very easy to learn how to execute fluid, real-time performances."
"Fun to play!"
"Sounds fan-bloody-tastic!"
- Sound on Sound Magazine

- Incredible real-time playability: SC Super Performance Multi
- All the pick-up positions can be reproduced.

Kontakt 4 Player included - No sampler required

Buy This Product >>
Audio Demos and Video Demos >>


---
LPC Electric Distortion and Clean Guitar

(

includes

approx. 60 Giga-bytes, 150,000 samples!)
Gibson® Les PaulTM Custom, is the most supported and loved electric guitar in the world. Over three months, we recorded the sounds of this excellent electric guitar played by a top guitarist using the latest Digidesign® ProToolsTM HD system. You can make very authentic guitar track using LPC's Real Time Legato Slide instruments.
Buy This Product >>
Listen to Demos >>


---
ELECTRIC GRAND PCP-80

The true sound of Yamaha Electric Grand Piano CP-80
- Recorded at 24 bit ultra high resolution, up to 16 various velocity levels.
- Natural resonance and reverberation during note-off periods featuring trigger release function.
Up to 60 seconds of sustain duration.


Buy This Product >>
Listen to Demos >>


---
| Home | Products | About us | Shop | Register |

- Artist -
"I have been looking for a great, realistic bass sim which was good enough to hear solo. I stumbled across SR5 Rock Bass and was totally blown away with it. Hummingbird Acoustic Guitar seriously wipes the floor with all competition."

Steve Mann
(Michael Schenker, Lionheart, The Sweet,
Eloy)
---
"Prominy's virtual guitar instruments are second to none. The playability and the versatility of these boutique products make them a must for any composer or producer."


Martin Nessi
(Celine Dion, Ariana Grande, Ricky Martin, Andrea Bocelli, etc.)
---
"WOW, Prominy is in a league of it's own!! It really gives you the flexibility to create realistic guitar parts, down to the slightest nuance. Very impressive!"

Greg Bieck
(Hall and Oates, Beyonce, Kenny G, Ricky Martin, Savage Garden, etc.)
---
"There is nothing else out there with this level of sophistication. The interface is easy to use and I was composing within 5 minutes after installing it!"

Eddie Wohl
(Anthrax, Fuel, Ill Nino, Smile Empty Soul, etc.)
---
"V-METAL sounds great! This is a very useful virtual instrument!"

"The Hummingbird acoustic guitar is a great addition to the V-Metal electric guitar.
I find this instrument extremely good!"



Gary Rottger
(Kiss, Cyndi Lauper, Frank Zappa, Fleetwood Mac, etc.)
---
"It's absolute magic for any composer who needs to add guitar to their work"
Guy Allison
(Doobie Brothers, Air Supply, Moody blues, etc.)
---
"The attention to detail and tonal quality is hands down the best I have heard.No one can believe these guitar parts are being played on a keyboard!!!"

Allen Morgan
(Nine Inch Nails, Taylor Swift, Dolly Parton, etc.)
---
"You'll be blown away with the stunning and powerful guitar sound! Prominy offers hightop-class virtual instruments for any kind of musicians, songs and styles."

Mistheria
(Rob Rock, Neil Zaza, etc.)